**Note: This post was composed on August 6...I'm scheduling it to post today so that my blog won't be completely neglected as we unpack!**
Moving to Montana means lots of big things. It means I'll be 22 hours and 1,391 miles away from almost everyone I love (except my new roomie, the fiance, and my cat, Belle). It means I'll be taking a big step mentally and professionally in graduate school, and meeting a lot of new awesome people (while of course staying in touch with the old awesome people I already know and love). And it also means that I'll be only eight hours away from two great things...that's right, people, I'm talkin' bout actually visiting the physical stores of two websites I like to frequent, The Container Store and IKEA!
The fiance and I have already planned to go to Portland the weekend of Halloween to see one of my favorite singers, Ingrid Michaelson, in concert. (Even if you've never heard of her name, I bet you've heard her single "The Way I Am" -- she is fabulous and you should check her out!) Well, I got an email from TCS today advertising a 20% off sale...and I thought, hmm, I wonder if there is a store near Missoula? I searched and found that there is one in Portland, along with the fabulous IKEA!!! (Living in Missouri, both of these stores are super-far from me...so it's very exciting!)
So, the weekend of October 29 is going to be packed with fun: a concert and container shopping! I'm so excited that we're going then, because we will be really settled in the apartment and I am sure some decor/organization needs will become apparent...so we will have a little wishlist of goods to buy in person!
In honor of this exciting shopping discovery, I am making a special Container Store/IKEA edition of my weekly Wednesday wishlist! I'm sure I will find a ton of things in person, and I'll blog all about my experiences once I've gone!
1.
Grassy Toothbrush Organizer, The Container Store
($8.99).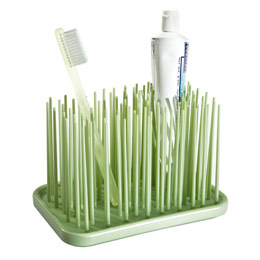 Oh em gee, this would look too cute in a kids' bathroom! Though it doesn't match with my current bathroom decor (bright blues and greens -- this is a little too sagey), it would just be too cute in a nature-themed restroom for tiny tots! I love that it's adorable and functional. You could also store other bathroom goodies in there, like headbands or hair ties!
2.
Flora fabric storage boxes, The Container Store
($12.99, $14.99, and $19.99).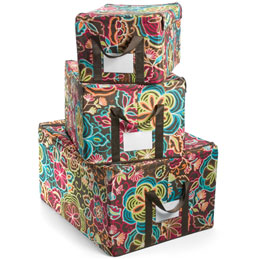 I can just picture these colorful and whimsical cloth boxes in my closet, housing scarves, belts, clutches, and other accessories. I love the unique floral pattern and the little white spot for labeling the contents.
3.
Partridge Jewelry Stand, The Container Store
($15.99)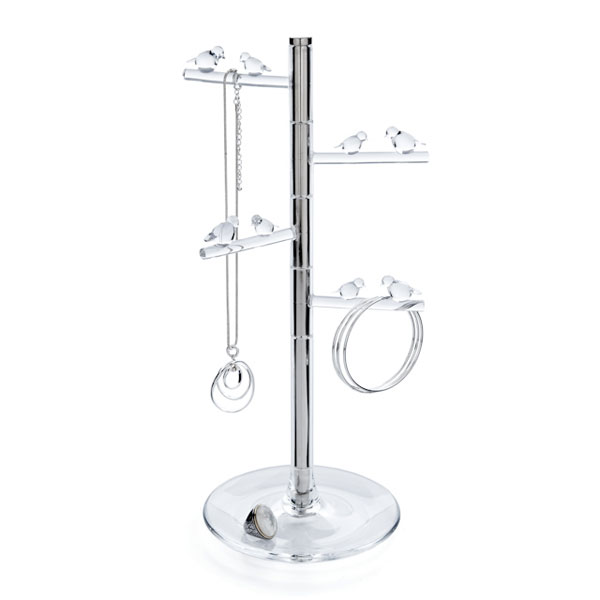 Another adorable and functional piece from TCS! I kinda have a thing for birdies, so the details on this acrylic jewelry stand are right up my alley! I also love the tray at the bottom, which would be perfect for stashing my ring at night, along with other smaller baubles. If I didn't already have my jewelry storage under control, I would totally nab this cutie.
4.
Frigoverre Fun Food Storage, The Container Store
($6.99 - $11.99 each).
I love the bright colors, floral print, and labels on these glass containers! (It's always important to mark dates on your leftovers so that you know if they're still good or if a tossing is in order). I might consider buying these in October, unless we opt to go for Costco glass-loc containers instead.
5.
Water Week water bottles, The Container Store
($14.99).
These water bottles are not only bright and boldly patterned, but they're eco-friendly, too. Think metal instead of plastic, people! I love the idea of having these cuties around to tote to work and around campus. I'll see what I think about them in person come October.
6.
Asker cup, IKEA
($5.99 each).
I love the endless storage possibilities for these cute little cups. Just look at all the things Jen at
IHeart Organizing
has done with them! Combined with a rod and some hooks, these babies have made appearances in her
home office
,
laundry room
, and
bathroom
. With all her gushing about their cuteness and functionality, Jen has me hooked. I can just picture them in my own office space, and maybe even in the kitchen for holding scrub brushes or spatulas!
7. STAM
bottle opener
and
can opener
, IKEA ($0.99 and $1.99).
I'm a fan of bright colors, and the turquoise option of these utensils would work well with my existing kitchenware! I just need to convince the fiance that we need them...shouldn't be too hard, considering they are inexpensive!
8.
Barometer floor/reading lamp, IKEA
($59.99).
I know from extensive in-store and online searches that lamps can come at a hefty price, so the face that this beauty is only 60 bucks makes my jaw drop! I love its classic look and adjustability. Once we've set up our space, we might just snatch up one of these for the office or living room..
9.
Asele table lamp, IKEA
($59.99).
Unsurprisingly, another IKEA lamp caught my eye -- this silver stunner would look great in the living room or bedroom! Again, I'll have to wait until we're fully moved in to decide where it could find a final home...but I know that I'll definitely be cruising the lamp section when I do visit the store.
10.
SOLSTRÅLE vase, IKEA
($6.99).
This funky jade-colored vase is just my style -- a dash of color and eccentricity equals my heart's delight! I'll definitely look out for this one in store, and maybe it'll join my crew of eclectic baubles that grace my bookshelves!
Well, that's all I got for now! Tune in soon for pictures of the apartment all done up (gasp!)