This week's Wednesday wish-list will probably be followed up quickly with another post -- I've been doing some major organizing and thrifting this week, plus I am having a craft night tomorrow with some friends, and I want to share! But I am still excited to share my weekly wishes, which are all loosely connected in that they're items that would fit quite well in our office!
1.
Organizing Essentials Craft Cart
from Joann's
. Ahhhhhh, I love this! I enjoy scrapbooking and I love keeping my supplies organized, so how could I not love it? The top drawers are slimmer, the middle ones are divided into compartments for stashing decorative doo-dads, and the bottom ones have lids so that you can tote your scrapbook paper to other rooms! Right now it is 50% off, but since my organization station for my scrapbooking supplies is alright for the moment, this is not a must-have!
2.
Dry Erase Board Decal
from Simple Shapes' Etsy Shop.
As an organizing freak, I am also a big fan of calendars and to-do-lists and the like. I love that you can customize the colors of the weekdays and the year. It also comes with the numerals for 2011 and 2012, so you can use the calendar for more than just a year! It might be a little hard to write on the squares, though, especially if you have to add more events. I don't like writing on things mounted to the wall (it makes my wrists hurt!) and it would be annoying to take the squares off every time.
3.
African Suns Printed Rug
from Urban Outfitters.
As you can tell from my living room and dining room decor, I'm definitely not afraid of splashes of color. This beautiful rug would look great in the office because it integrates colors from other rooms (I really love the spicy orange color, obviously!) which is important since the carpet and walls in our new place are all a boring white. I can't splurge on this yet, but I hope it goes on sale in the future!
4. Satin Finish A to Z bookends, Barnes and Noble. I've been eying these cuties for a while. I sort of have a thing for letters of the alphabet -- I collect various letters and am planning on tucking them throughout my home! These are a bit too much for my tastes ($50), but again, I'll look for them to go on sale (or find some knock-offs!)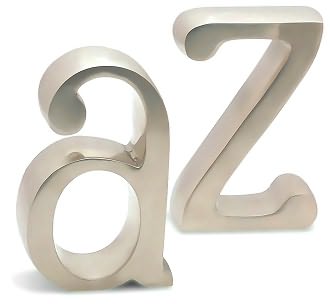 5. Daily System in Black, Pottery Barn. I love the look of this ultra-organized wall system! Some of the pieces are very hi-tech, too: one contains an HDTV, and one has a digital picture frame integrated in it (neither of those ones are featured here; they come in white). Of course, those things are incredibly expensive. Since I won't be getting the dry-erase decals or this super-expensive system from PB, I am still in need of a good dry-erase board. I think I could imitate the Daily System by buying cheaper versions of certain components (like these dry-erase boards from Target), using existing pieces (like my black digital picture frame), and scouting for thrifty finds (if I hunted enough, I bet I could find a wooden or metal letter organizer on clearance or at Goodwill!)
Well, that's all for now! Check back soon for a post on this week's adventures in organizing, thrifting, and crafting!